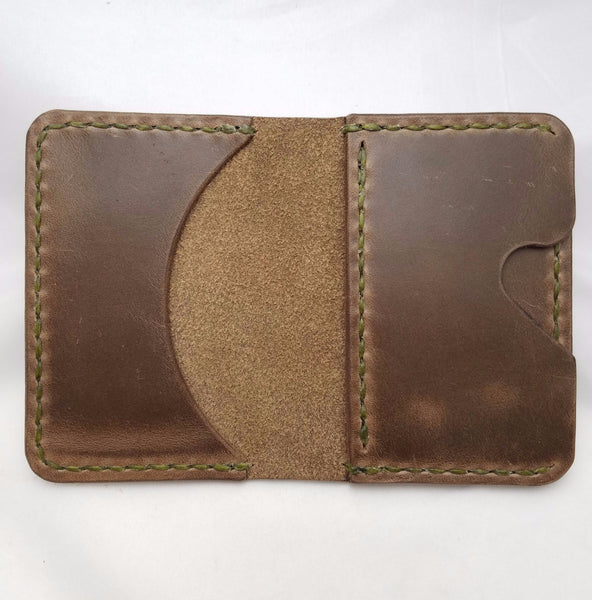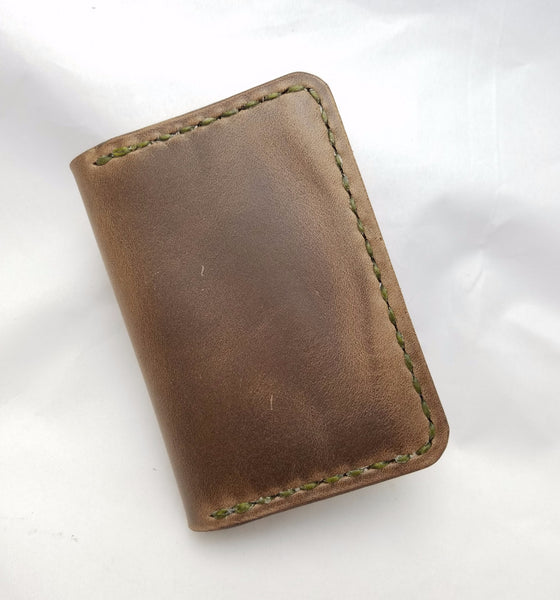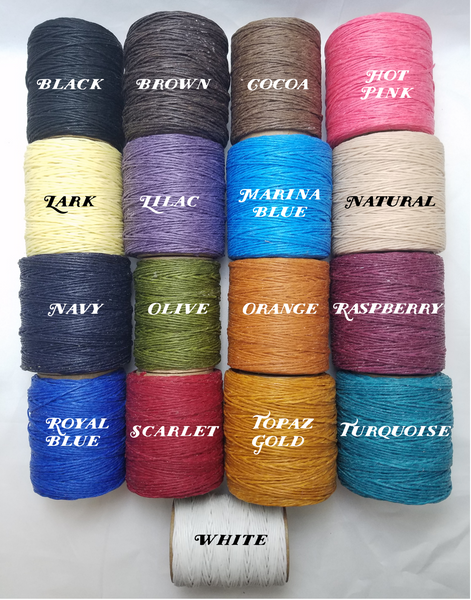 Gemini - Natural Chromexcel
The Gemini is our flagship design and let's you personalize not only the outer thread color but also the interior accent thread color. This wallet is hand cut to order from genuine Natural Chromexcel Horween Leather, and hand saddle stitched with your choice from our available Maine Thread Company thread. Shown here in Olive thread for both the outer and interior accent thread.

This beautiful wallet features two full size pockets, one quarter-moon cut, each holding between 5-8 cards very securely, and one outer facing pocket for your two most frequently used cards. The signature outer facing "wave cut" has been meticulously designed to allow easy access to your debit, gym, or other frequently used cards. This is a strong wallet and will be the last wallet you ever want or need.

Be sure to leave a note with your interior thread color choice. If you do not let us know what color you would like we will use our default option which is to use the same inner color as the outer color thread.

DETAILS:
• Two full pockets to hold all your cards and cash.
• One outer facing "wave cut" pocket for frequently used cards.
• Original Tannery South Leather Co. Tried & True design.
• Hand cut premium Natural Chromexcel Horween leather.
• Hand saddle-stitched with Maine Thread Company waxed polycord thread to maintain strength and durability.
• The edges are hand beveled, sanded, and burnished with Gum Tragacanth for a very smooth and durable finish.

If you're not familiar with the legend that is Horween here's a little background.

Horween Leather Company was founded in Chicago, Il in 1905 by master tanner Isidore Horween. For over 100 years their goal has been to make the best leather in the world. Horween believes that making the best means doing lots of little things right, it means never mistaking fastest or cheapest with best. Through the years they have cultivated their experience to offer a dynamic line of leathers that include traditional old world tannages and techniques along with carefully updated modern techniques. Their leathers are still made today, by hand, the same way they were over a hundred years ago.

PRODUCTION & SHIPPING:

• Each item is meticulously handmade and crafted to order, depending on the orders in queue please allow up to 2 weeks for production and shipping. We will be sure to inform you as to the status of your item the entire way.
---