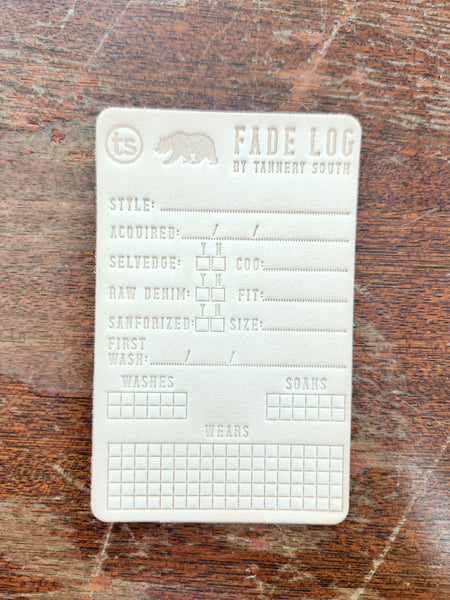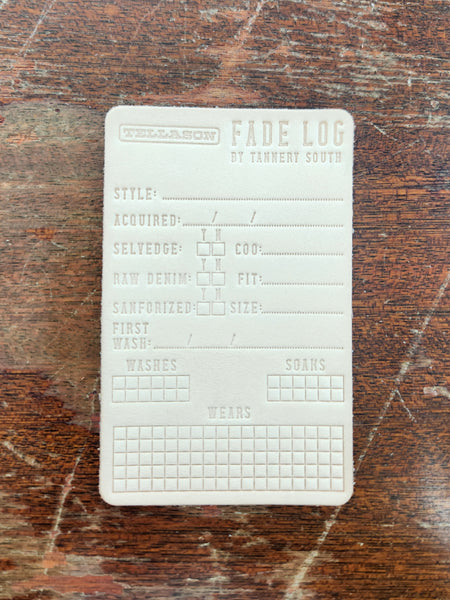 Fade Log - Brand Edition
We've teamed up with some of the greats to bring you a branded Fade Log from your favorite denim brands from around the world.
Your fades tell a story, our Fade Log will keep track of it.
Whether you're new to the world of denim or a long time denimhead, our all original, and Patent Pending, Fade Log will help you easily keep track of your personal wear and carry info. Perfect for fade competitions or future reference needs, these are also a great tool for helping to determine how best to take care of your current and future denim pieces over time. 
Just use a pen*, like an Ultra Fine Sharpie, to fill in all of the details that matter most to you, such as the date you acquired your new forever jeans, the denim country of origin (COO), the fit, etc.  Then use the Washes, Wears, and Soaks boxes to keep track of all your specifics. 
Details:
Our Fade Log Raw featuring your favorite denim brand.
Made using Natural Veg-tan leather from world famous USA Wicket & Craig Tannery.
What's Included:
A credit card size cut of premium Natural Veg-tan with spots for all of your important details. Leave one in each pair.
Peace of mind knowing you won't be caught with missing details at that next Denim Hang.