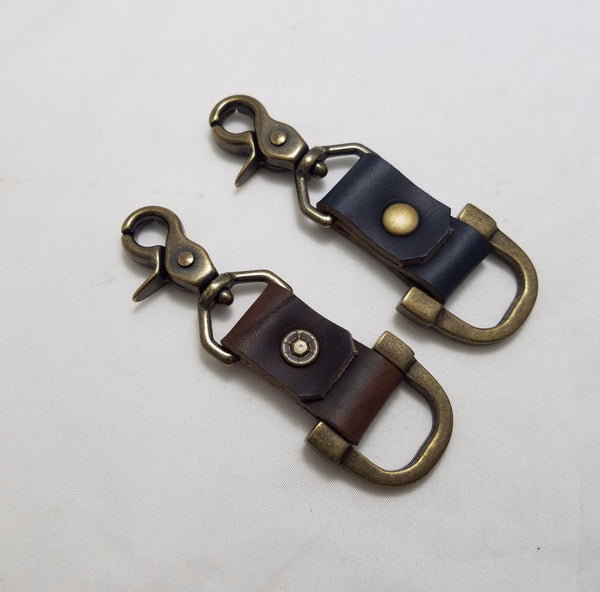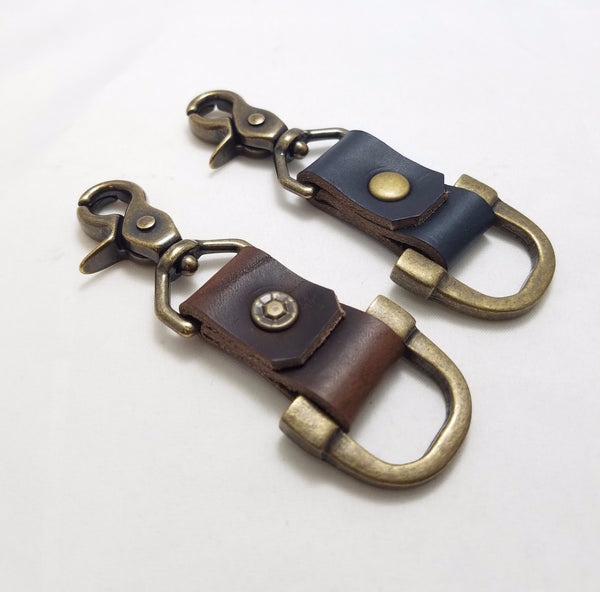 Small Key Clip Navy Chromexcel
Our small version of this classic everyday carry piece utilizes a unique Antique Brass key ring, and a small Antique Brass trigger snap making it the perfect size and weight for any pocket.  Each piece has been hand set with an Antique Brass rivet stronger than you, no offence, and will provide many years of carrying service.   

Shown here in Navy Chromexcel with Antique Brass hardware.  Also pictured is the Small Key Clip in Havana Brown Chromexcel with our "Sunburst" rivet.

DETAILS:
• Antique Brass hardware. Available with Classic rivet or "Sunburst".  Classic is the default, but if you like the "Sunburst" please leave a note at checkout.   
• Original Tannery South Leather Co. Tried & True design.
• Hand cut premium Navy Chromexcel Horween leather.


DIMENSIONS:
• 4" with hardware.
If you're not familiar with the legend that is Horween here's a little background. 
Horween Leather Company was founded in Chicago, Il in 1905 by master tanner Isidore Horween. For over 100 years their goal has been to make the best leather in the world. Horween believes that making the best means doing lots of little things right, it means never mistaking fastest or cheapest with best. Through the years they have cultivated their experience to offer a dynamic line of leathers that include traditional old world tannages and techniques along with carefully updated with modern techniques. Their leathers are still made today, by hand, the same way they were over a hundred years ago.